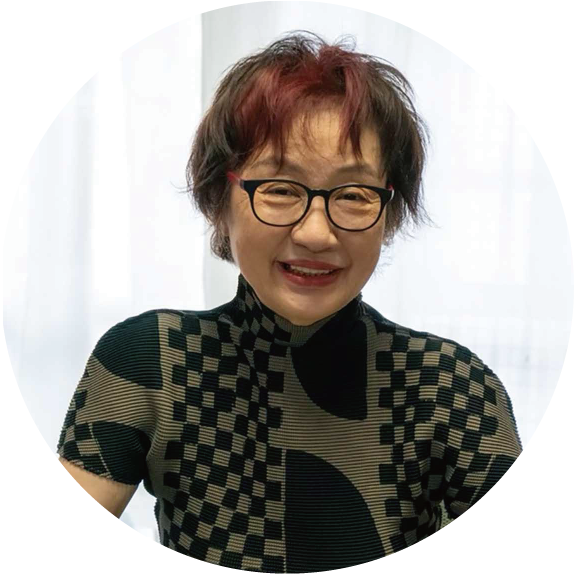 ASAKO IWASAWA
Biography
ASAKO IWASAWA studied at Tama Art University and founded a design studio with a friend of hers after graduation. She was engaged in works with companies such as Naoki Sakai's Water Studio and France Bed. During her career, she became fascinated by kimono design, studied dyeing techniques at a roketsuzome (textile dyeing technique using melted wax) studio, and made Japanese clothes.
Artist in Nature
Her passion for nature had always been strong partially because of her upbringing in Tokyo; she grew up in a town with very few trees. Eventually she moved out of the urban area and started to grow plants and vegetables in the countryside where she had struggled each day from dawn to cultivate soil and grow vegetables. She became influenced by those days of experiencing and understanding great nature and came to think of expressing it onto her art works.
Artist Statement
I endeavor to express the marvelous energy of nature without imitating the shapes in it. My works are inspired by different phenomena in nature, and I attempt to express its life. I would like to manifest all wonders that are inherent in nature such as unperceivable battles and cooperation between plant life and insects and incomprehensible shapes and colors that exist in the seen and the unseen.
Exhibitions
02/2020 Solo exhibition
Niche Gallery, Ginza, Tokyo, Japan
10/2019 Solo exhibition
Sola City, Ochanomizu, Tokyo, Japan
10/2019 Art Plus Shanghai
Shanghai, China
03/2019 Art in Park Hotel Tokyo 2019 by Creative Space Hayashi
Shiodome, Tokyo, Japan
09/2018 Solo exhibition
Marathon Center by Paul Calendrillo, Ohio, USA
09/2018 Solo exhibition Kusa-Kusa-Hana (Plants, Flowers, and Plants)
Creative Space Hayashi, Chigasaki, Japan
09/2018 Kachoufugetsu (beauty of nature) Award, Contemporary Art Exhibition
Ronin Gallery, New York, USA
04/2017 Special Prize, Contemporary Art Exhibition
Ronin Gallery, New York, USA
09/2017 Solo exhibition Kusa-no-naka… (Inside the Plant…)
Creative Space Hayashi, Chigasaki, Japan
04/2017 Solo exhibition Magical Secret Garden
Paul Calendrillo Gallery, Roosevelt Island, New York, USA
09/2016 Solo exhibition How do plants and flowers dream?
Creative Space Hayashi, Chigasaki, Japan
03-04/2016 Solo exhibition What do plants dream of? 2016
Atlantic Gallery, New York City, USA